⭐ Tarantino Live is a critically acclaimed theatrical rock experience based on the Quentin Tarantino Cinematic Universe. Celebrate more than 25 years of Pulp Fiction as the entire Quentin Tarantino Cinematic Universe comes to life in an adrenaline-fueled, 360-degree pulp rock experience.
🚨 Doors close on July 30th! Limited tickets available! 🚨
Tickets for Tarantino Live in London
🎫 Standard Admission - includes entry to the experience in your selected seating area (Mr. Blonde, Pink or Brown (far edge of the theatre))
🎫 Mr. Black Admission - includes skip-the-line entry to the experience, the best seats in the house, a mini table, and table service
🪑 Seats are first come, first served within each area
Highlights
🎸 The iconic scenes and songs from all 9 Tarantino films and their soundtracks, remixed and reimagined.
🎬 Featuring scenes & songs from Pulp Fiction, Kill Bill, Django Unchained, Reservoir Dogs, Inglourious Basterds, Jackie Brown, The Hateful Eight, Death Proof, and Once Upon a Time in Hollywood
💃🏻 Two-time Olivier Award Winner George Maguire and X Factor/West End star Anton Stephans
lead a powerhouse ensemble cast of stage and screen talent
General Info
📅 Dates and times: select your dates/times directly in the ticket selector
⏳ Duration: 2 hours
📍 Location: Riverside Studios 101 Queen Caroline Street. Hammersmith. London. W6 9BN
👤 Age requirement: 16+ with valid ID
♿ Accessibility: the venue is partially accessible - please check the FAQs below for more information
❓ Please consult the FAQs of this experience here
🎁 Treat your friends and family to a gift card for this experience here
Based on Tarantino's best-known films
Pulp Fiction
Kill Bill
Django Unchained
Reservoir Dogs
Inglourious Basterds
Jackie Brown
The Hateful Eight
Death Proof
Once Upon a Time in Hollywood


Description
Pulp Rock (noun): a rock concert with gritty, violent, hilarious short stories to celebrate more than 25 years of Pulp Fiction. The iconic scenes and songs from all 9 Tarantino films and their soundtracks are remixed and reimagined. Rediscover the characters of Reservoir Dogs, Pulp Fiction, Kill Bill, Jackie Brown, Death Proof, Inglourious Basterds, Django Unchained, Hateful Eight and Once Upon A Time In Hollywood as the rock stars of a supergroup band. Songs like "Stuck in the Middle With You", "Bang, Bang, My Baby Shot Me Down", and "Girl, You'll Be A Woman Soon" with a mashup collection of Tarantino's unforgettable dialogue are the engine that powers this wild ride. It's an immersive, character-driven, rock 'n' roll experience that will blow you away!
London Reviews

"Perfection. I say God damn. God damn..." - Theater Tonic
"A stunning, genre-defying, mash-up" - Spy In The Stalls
"Beautiful, sweary and violent - just as Tarantino would have wanted. Goddamn." - My London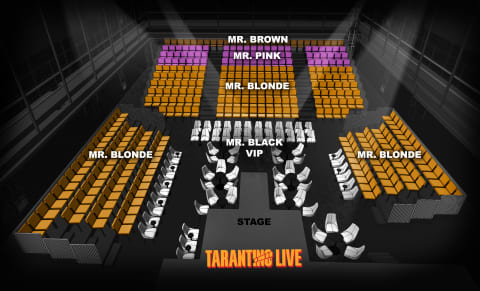 User reviews
Where was great from start to end. It was immersive, fun and enjoyable. The cast were engaging and gave a great performance.

Absolutely brilliant - loved every moment - fantastic singers - such a talented bunch x

Absolutely fantastic show

Brilliant event. Loved the music. Would highly recommend

The show is brilliant. Fantastic actors with great voices. It's very clever and a must for any Tarantino fan.

Incredible show with spectacular performances from the whole cast and musicians. An absolute triumph for fans of Tarantino!

Great show, loved that the actors came out into the audience.amazing singers and musicians. Nice venue

Amazing performance. You can enjoy Tarantino's most memorable musical moments.

Amazing 🤩

So good! Amazing singers!!!!
Get notified when this or something similar is available