⭐ Don't miss Jurassic World: The Exhibition in Atlanta, an immersive experience bringing you face-to-face with life-size dinosaurs. Walk through the Jurassic World iconic gates and prepare to be left in awe as the ground-breaking movie franchise is brought to life!

Tickets for Jurassic World: The Exhibition in Atlanta
🎫 Standard Admission - includes entry to the experience
Adult (16+)
Child (3-15)
Senior (65+) or Student - valid ID required
Family Bundle (max. 2 adults)
Group Bundle (min. 6 people)
👉 For groups of more than 30 people, personalized packages, and private sessions, please visit our website

🎫 Flexible Entry Ticket - includes full access to the experience at any time on your selected date
- This option is available in the calendar to the left on the first time for each day
- Final entry time is one hour before closing
Adult (16+)
Child (3-15)
Senior (65+) or Student - valid ID required

Highlights
🎞️ Prepare to be left in awe at this immersive experience that brings the ground-breaking film franchise Jurassic World to life at Pullman Yards
🦖 Get up-close and personal with life-size dinosaurs as you walk through the world-famous Jurassic World gates
😮 Step behind the glass into The Creation Lab and imagine what it would have been like to walk among the breathtaking animals
👪 Family-friendly day out perfect for all ages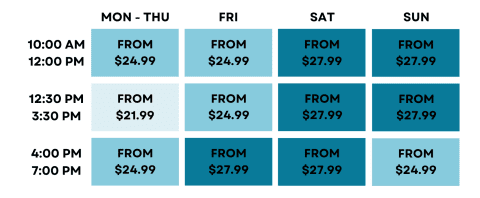 General Info
📅 Dates and times: select your dates/times directly in the ticket selector
📍 Location: Pullman Yards, The Machinery
👤 Age requirement: all ages are welcome! Free entry for children under 3
♿ Accessibility: the venue is wheelchair accessible
❓ Please consult the FAQs of this experience here
📝 You can find the T&Cs for this event here

Description
Get closer to dinosaurs than ever before in Jurassic World: The Exhibition! Based on one of the biggest blockbusters in cinema history, the exhibition immerses audiences of all ages in scenes inspired by the beloved movies. Now, the park that was only a promise comes to life… right before your eyes. Walk through the Jurassic World iconic gates as an honored guest and gaze in wonder at a towering Brachiosaurus; come face-to-face with a Velociraptor; and get a rare up-close look at the most vicious dinosaur of them all, Tyrannosaurus Rex. Don't miss the awe-inspiring journey and remember, if something chases you… run! Get your tickets for Jurassic World: The Exhibition in Atlanta!
User reviews
Our family had an awesome awesome time. We really didn't expect the experience . It was fantastic, from our youngest at 3 to oldest, 70. Everything was very well done, realistic scenes, the staff was awesome. No crowding inside. Would do it again!

Really great show. Kids enjoyed it as in real Jurassic World. Each and every crew member played their role well

Very realistic and perfectly done. I had the best experience!

Had a great experience such a wonderful place to come with family!

Such an awesome experience! The detail was great and I really appreciated the smaller groups to ensure we were all able to see everything.

Absolutely loved it and the kids did too!

Wow!! Definitely surpassed my expectations. This was very well done you can tell they put a lot of work into it.

Amazing experience top to bottom. Even though it was mainly for our 3.5 y/o son, we enjoyed it too, as adults.

my son loved it! Just wished it was longer tour but it was fun!

100% worth the money!

It awesome! Did not disappoint! Worth the money!

Loved the experience!

Awesome, my kids were terrified, and we even kept telling them that the dinosaurs were fake! 🤣

It was so much fun.

It was pretty cool, the kids enjoyed it overall
Getting there
Patio del Campus Muralla del Mar
Calle Doctor Fleming, s/n, Cartagena, 30202
Select date and session
10:00 AM
10:30 AM
11:00 AM
11:30 AM
12:00 PM
12:30 PM
1:00 PM
1:30 PM
2:00 PM
2:30 PM
3:00 PM
3:30 PM
4:00 PM
4:30 PM
5:00 PM
5:30 PM
6:00 PM
6:30 PM
7:00 PM
Adult (16+) for $29.99 per person
Sold out
Child (3-15), Student or Senior (65+) for $24.99 per person
Sold out
Family Bundle (Max. 2 adults) for $25.99 per person
Sold out
Group Bundle (min. 6 tickets) for $26.99 per person
Sold out
Flex Entry - Adult (16+) for $35.99 per person
Flex Entry - Child (3-15), Student or Senior (65+) for $29.99 per person
Only a few tickets left
Compra reembolsable
Consigue el reembolso completo de la compra si cancelas 48 horas antes de la hora de inicio del evento. ¡Sin preguntas!