Perrotón Madrid 2023 Nicka Run Tickets
🎫 Individual registration for the race + Welcome Pack

After purchasing you will have to fill in a form to complete your registration

👉 The proceeds of the solidarity bibs will go entirely to the Noah's Ark Foundation, dedicated to the reception and subsequent adoption of dogs and cats. The solidarity bibs do not entitle the participants to participate in the race or to obtain the Welcome Pack.
🚨 Register from April 15 to June 15 and get a personalized race bib with the name of your dog 🚨
Highlights
🏃‍♀️ A solidarity race to support adoption and responsible pet ownership, and against animal abandonment and mistreatment
🐶 An opportunity to have fun with your dog as a family
🎁 A very special welcome pack for your dog and one for you
General Information
🕒 Date and time: Sunday, October 8 at 10:00 a.m
📍 Location: Plaza de Colón / Jardines del Descubrimiento, Madrid
age: children under 18 years of age must present this authorization signed by their parent or guardian at the bib pick-up. Children under 14 must be accompanied by an adult registered in the race. The minor participant must also be registered in the race
🐶 It is mandatory to participate with a dog. Several people can participate with the same dog (registration is individual)
welcome Pack pick-up: Saturday, September 30 and Sunday, October 1 from 11:00 to 15:00 and from 16:00 to 21:00 at El Corte Inglés on Paseo de la Castellana (5th floor)
👉 You can consult the legal bases of participation of the race here
📱 We will send you an email with the necessary information for you to enjoy this experience
Description
Perrotón is back! The most anticipated event of the year for dog lovers, to enjoy with the family in favor of our pets' adoption and responsible ownership. You will spend an unforgettable day touring the most emblematic streets of the city of Madrid. Sign up with your best four-legged friend. Join the more than 44,500 dogs and their owners who have already enjoyed this unique experience that promotes non-abandonment and non-abuse of animals. Join Perrotón. They would do it too. #YoCorroContraElAbandono. Get your registration for Perrotón Madrid 2023 Nicka Run!

*Perrotón Madrid 2023 will donate 30% of the race registration fees to the non-profit association Perrotón, whose objective is to carry out different awareness campaigns, sterilization, spaying, neutering, prevention of leishmaniasis, etc., for dogs and cats for shelters with low economic resources and with the collaboration and advice of the Hospital Clínico Veterinario de la Universidad Alfonso X El Sabio.
** From this next edition, Perrotón Madrid becomes Perrotón Madrid 2023 Nicka Run as a tribute to Nicka, the little Chihuahua dog that for eleven years was the image and voice of the voiceless of this unique solidarity race.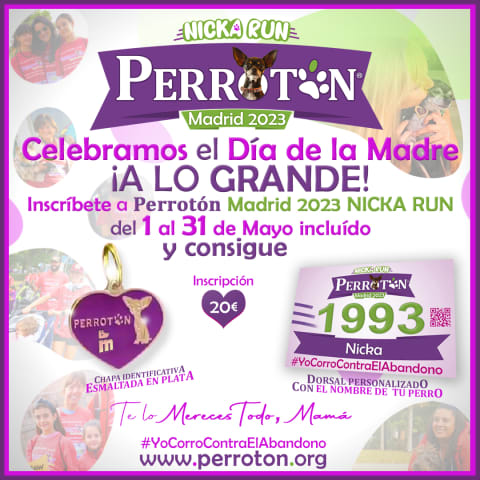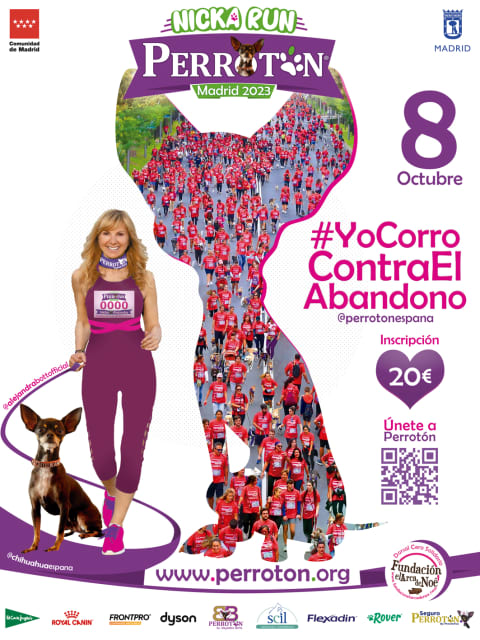 User reviews
Agradecida por poder contribuir. Os habéis adaptado muy bien a la pandemia, soy enfermera y creo que esta era la manera más correcta de llevar a cabo una carrera. Cuando todo pase podremos volver a correr todos juntos que es más emocionante, pero muy bien la idea de adaptar la carrera de esta forma. Me ha gustado mucho.

genial. era nuestra segunda perrotón y esperamos repetir

una experiencia increíble, muy recomendable el plan para ir con tu mascota

Los perros se lo pasaron genial. Habia muy buen ambiente y nos divertimos todos un monton. Totalmente recomendable

Genial la organización

Ha estado genial.

simplemente genial

Todo genial

Repetiremos, seguro! 🐕🐕🐕

Todo excelente. Sólo que deberían de ser más perrotones al año. Es la única pega

Una locura al principio; pero es normal Con tanto perro junto. No sabíamos que tras la carrera habrían actuaciones; sino nos hubiésemos organizado para quedarnos algo más. Vinimos desde Sevilla.

Hermosa experiencia para repetir todos los años

Me encantó

Nada,todo a sido maravilloso. Repetiré el año que viene,felicidades a la organización

Repetiré, Venus estaba muy feliz durante el recorrido y ahora descansa después de toda la caminata. 15€ para una muy buena causa.
How to get there?
Plaza de Colón- Jardines del Descubrimiento
Calle de Goya, 2, 28001
Select date and session
One individual registration for 20.00€
Solidarity bib for the Noah's Ark Foundation for 10.00€
Solidarity bib for the Noah's Ark Foundation for 20.00€
Solidarity bib for the Noah's Ark Foundation for 50.00€
Solidarity bib for the Noah's Ark Foundation for 100.00€