Tickets
🎫 Band A (Front Half of the Nave and Gallery Front)
🎫 Band B (Mid Centre Nave)
🎫 Band C (Rear Centre Nave)
🎫 Band D (Side Aisles - Restricted View)
🎫 Band E (Rear Gallery - Non-View Seats)

Highlights
🎵 Beautiful music performed by Trafalgar Sinfonia and Belmont Ensemble of London
🎻 Perfect option for first-time classical concert goers
🕯️ Stunning St Martin-in-the-Fields location bathed in candlelight

General Info
📅 Date: various available (select during purchase)
🕒 Time: 7:30 p.m. – 9:30 p.m.
📍 Location: St Martin-in-the-Fields
❓ Please note: You will automatically be assigned the best seat possible. If you buy more than one ticket, they will be seated together. Due to venue constraints, seating for wheelchairs is limited. To ensure your needs are accommodated, we politely request that you contact the venue to arrange your tickets

Programme

To view a full list of the programmes and performers for each date, please click here
Description
The Belmont Ensemble of London and the Trafalgar Sinfonia have now given over 1500 concerts at the famous Trafalgar Square Church where they are firmly established as the most popular of the principal orchestras, attracting large international audiences to their fortnightly concerts. Make your way down to the gorgeous St Martin-in-the-Fields church for a night of beautiful music and surroundings as the ensembles play Vivaldi's The Four Seasons and other pieces in candlelight... Simply stunning!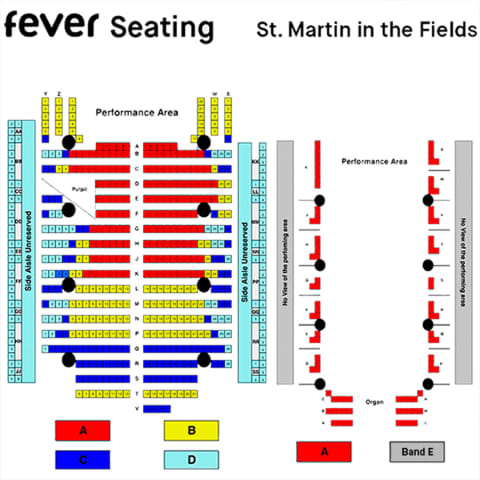 User reviews
Truly delightful!

Absolutely delighted with the concert. The ensemble was brilliant, their talent gave me goosebumps throughout, so sublime

Lovely venue, music superb .

Amazing! This Saturday reminded me how emotional i can be! An incredible way of enjoying a Saturday!

Absolutely fantastic!! Both violinists were really great. As was everyone. Loved the explanations from the conductor. This was the best candlelight experience I have been to and I've been to a few. Thanks so much!

The Trafalgar Sinfonia were brilliant, and Helen Davies truly stunned, especially with the encore performance. The acoustics of the church further enhanced the performance, and combined with the romantic candlelight, it was the perfect anniversary date!

IT WAS AN AMAZING NIGHT!!

Amazing, the conductor and orchestra were great.

Excellent concert, fantastic location

Outstanding music and beautiful surroundings. Dress warmly though.

It was so great! Thank you very much to everyone who contributed. Stay with art!

Unique beautiful experience 👍

Love it! Love it!

More candles would have made it perfect

Magical acoustics
How to get there?
Hôtel Carlton Lille
3 Rue Pierre Mauroy, 59000
Select date and session
Band E at 7:30 pm for £12.00
Band D at 7:30 pm for £20.00
Band C at 7:30 pm for £27.00
Band B at 7:30 pm for £32.00
Band A at 7:30 pm for £40.00
Only a few tickets left