⭐ Join The Drunk Shakespeare Society for an unforgettable evening of Shakespearean revelry, where cocktails meet the classics. Set within The Garden – a performance space inside the Selene restaurant in NYC – five fearless actors take on the classics after downing shots of various alcohols. Every show is different depending on who is drinking... and what they're drinking!
Tickets
🎫 Balcony ticket for 1 person
🎫 Mezzanine ticket for 1 person
🎫 Stage Side ticket for 1 person
Highlights
🍸 Glam cocktail bar and library to explore
😂 A hilarious way to watch Shakespeare
✨ Every show is different!
General info
🕐 Dates and times: various dates and times available (select during purchase)
⌛ Duration: 2 hours
📍 Venue: The Ruby Theatre
👤 Age requirement: 21+ with valid ID
♿ Accessibility: the venue is wheelchair accessible
🎁 Fever benefit: exclusive Fever price
Description
Maybe it wasn't the punch that drove Ophelia mad, but come celebrate a night of Shakespeare and cocktails. After five shots of whiskey, each actor transforms the play into a raucous, revolutionary, and brilliant performance full of linguistic fancy and excellent storytelling. The event takes place in a hidden Victorian drawing room on the 4th Floor of a New York hotel with the world's largest collection of paintings by Édouard Manet. Craft cocktails are served throughout the show. So how do you take your sonnet...shaken or stirred?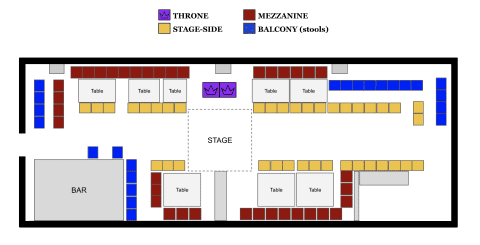 User reviews
AMAZING PERFORMANCE! The entire cast was extremely witty, quick on their feet, and super talented. We were non-stop laughing. Highly recommend!

They were amazing. 1000% would go again.

Amazing experience! Brilliant and extremely funny!

It was an amazing, incredible experience and I urge everyone to attend

Very funny & a great time!!

The show was amazing! The actors were hilarious!

This show was sensational. I loved the jokes and the performers did such a great job entertaining us. I would definitely watch this again. I had a good laugh and so glad I went. Definitely recommend the show a million times !!!!

they fucking killed Big Dick Sam and it was amazing!! highly recommend!! uniquely wonderful show!!!

such great fun with this lovely and talented group. it's a much needed must see night out!

Loads of fun! One time experience

It was alright. Funny but not sure if the actor is drunk drunk or acting drunk lol

Hilarious! Exceeded my expectations! 10/10

Awesome show! Amazing cast and attentive staff !

AMAZING show and stellar performances all around. Would HIGHLY recommend!

We had an amazing time, looking forward to the next show!
Getting there
The Ruby Theatre NYC
35 W 39th St, 10018
5th Ave - Bryant Pk - 7-7 Express
Select date and session
The Garden
The Ruby Theatre NYC
Jun 2023
Jul 2023
Aug 2023
Sep 2023
Oct 2023
Nov 2023
Dec 2023
Jan 2024
––– Low availability
Balcony Seating for $29.00
Mezzanine Seating for $39.00
Stage-Side Seating for $49.00