⭐ Tarantino Live is a rock musical based on the Quentin Tarantino Cinematic Universe. This show is a dynamic combination of Broadway-style live action with rock 'n' roll music from QT's iconic films. After a sold-out LA debut, Tarantino Live is coming to London - get your tickets now!
🚨 Now open at Riverside Studios and tickets are selling fast! 🚨
Tickets for Tarantino Live in London
🎫 Standard Admission - includes entry to the experience in your selected seating area (Mr. Blonde, Pink or Brown (far edge of the theatre))
🎫 Mr. Black VIP Admission - includes entry to the experience in the VIP seating area (Mr. Black) with table service
🪑 Seats are first come, first served within each area
Highlights
🎸 Immerse yourself in Quentin Tarantino's Cinematic Universe with a live musical performance
🎬 Featuring scenes & songs from Pulp Fiction, Kill Bill, Django Unchained, Reservoir Dogs, Inglourious Basterds, Jackie Brown, The Hateful Eight, Death Proof, and Once Upon a Time in Hollywood
💃🏻 Experience both Broadway talent and blockbuster films in one incredible night!
General Info
📅 Dates and times: select your dates/times directly in the ticket selector
⏳ Duration: 2 hours
📍 Location: Riverside Studios 101 Queen Caroline Street. Hammersmith. London. W6 9BN
👤 Age requirement: 16+ with valid ID
♿ Accessibility: all spaces are wheelchair accessible
❓ Please consult the FAQs of this experience here
Based on Tarantino's best-known films
Pulp Fiction
Kill Bill
Django Unchained
Reservoir Dogs
Inglourious Basterds
Jackie Brown
The Hateful Eight
Death Proof
Once Upon a Time in Hollywood
Description
Join the "Fox Force Five" — a group of fierce superwomen made up of five of Quentin Tarantino's most iconic female characters — as they take on the Tyranny of Evil Men in an epic battle of revenge and redemption. The adrenaline-fueled rock show blends iconic songs and scenes from Quentin Tarantino's Cinematic Universe. Experience Reservoir Dogs, Pulp Fiction, Kill Bill, Jackie Brown, Inglourious Basterds, Django Unchained, Hateful Eight and Once Upon A Time In Hollywood remixed and reimagined as the ultimate live movie-musical. It's an immersive, character-driven, rock 'n' roll experience that will blow you away!
Reviews from LA
💬 Rosseta S. - ⭐⭐⭐⭐⭐ "All I can say is……wow!!!!!!!! What an amazing show! The singing and acting was phenomenal! I didn't know what was in store, but I'm so glad I went!! Definitely a must see."
💬 Johnny G. - ⭐⭐⭐⭐⭐ "Unbelievable talent, the show was as campy and fun as any Tarantino film, but came with it some truly amazing singing. An absolute blast from start to finish"
💬 Priscilla A. - ⭐⭐⭐⭐⭐ "The show was amazing!!! Best performance I've seen in a while. The voices on the cast were amazing the story mashup of the Tarantino movies was perfect I can't say enough how great it was! The venue at the Bourbon Room was a great vibe good food awesome drinks too"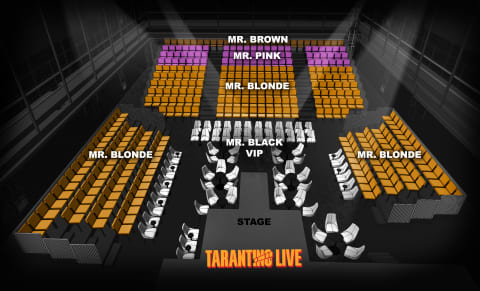 How to get there?
Riverside Studios
101 Queen Caroline Street, London, W6 9BN
Select date and session
Jun 2023
Jul 2023
Aug 2023
Standard Admission - Mr. Brown for £29.00 per person
Standard Admission - Mr. Pink for £39.00 per person
Standard Admission - Mr. Blonde for £69.00 per person
VIP Admission - Mr. Black for £99.00 per person