⭐ The Tempest: An Immersive Experience is an all-new reimagining of a Shakespearean classic. In this genre-defying performance, guests are shipwrecked onto a mysterious island, where the play comes to life with live music, curated cocktails, and interactive encounters. Can you uncover the secrets once lost at sea?
Tickets for The Tempest: An Immersive Experience in LA
🎫 General Admission - includes standard seating for the performance
🎫 Premium Admission - includes premium seating for the performance
🎫 VIP Admission - includes prime seating on the stage + early admission time with more room for island exploration + welcome cocktail or mocktail
Highlights
🌊 Experience an all-new reimagining of a Shakespearean classic, complete with immersive in-world exploration
🍸 Sip on custom, handcrafted, theatrical cocktails full of dark magic
🎵 Sing along to swashbuckling sea shanties
🎭 Come face-to-face with the show's characters as they bring you into their hidden world
🧩️ Uncover the mysteries of the island as you discover interactive puzzles, hidden clues, and unlockable secrets
General Info
📅 Date: from March 16, 2023
🕒 Time:
- Thursdays–Sundays: VIP ticket holders should enter at 7:00 p.m. to enjoy the experience in full. All Premium and GA guests will have entry times at 7:20 p.m. and 7:40 p.m.
- Additional performances: Saturday Matinee doors open for VIP ticket holders at 1:30 p.m. and for all other guests at 1:50 p.m. and 2:10 p.m. Sunday's doors open for VIP ticket holders at 2:00 p.m. and for all other guests at 2:20 p.m. and 2:40 p.m.
⏳ Duration: the performance is 135 minutes, and you will enjoy additional immersive exploration for up to 60 minutes
📍 Location: The Shakespeare Center LA
👤 Age requirement: 13+; must be 21+ with valid ID to consume alcohol
♿ Accessibility: the venue is ADA compliant
❓ Please consult the FAQs of this experience here
Cast List
See the full list of cast and characters here
Description
Embark on an island adventure and experience a fully immersive telling of Shakespeare's The Tempest! Upon stepping into the experience, you'll find yourself shipwrecked onto a dark, magical island full of wonder, excitement, clues, and discovery. Guests are invited to explore the island and take in its pleasures, enjoying curated cocktails, live music, and interactive moments followed by a world-class production of Shakespeare's classic masterpiece. What are you waiting for? Get your tickets now for The Tempest: An Immersive Experience in LA!
Brought to you by After Hour Theatre Company, Shakespeare Center Los Angeles & Fever.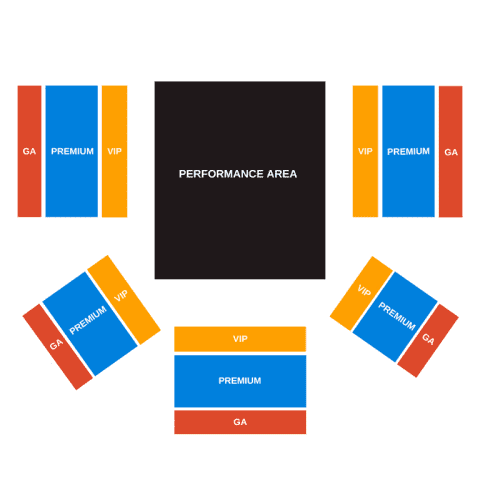 User reviews
Incredible experience! It truly was immersive and the entire set up made me appreciate Shakespeare for the first time.

The show was amazing! Filled with very impressive performances and the pre-show immersion was very fun. I loved the lighting and design. I was entertained and locked in from start to finish. Even if you are unfamiliar with Shakespeare, this cast has internalized the text in such an engaging way that makes the show easy to understand. There's a nice balance of honoring the classic with glimpses of modern interpretation. Plus, the cocktails has no business being that good :). A great time!

What a perfectly lovely evening with Shakespeare. The whole experience was worth every penny, From the moment I entered the experience through to the last bow, I had a smile on my face!

The ship was so cool and a great intro to the experience and we also enjoyed the puzzles before the show. The show itself was also great! Loved the set.

This was a unique and incredible experience! My friends and I are still raving about it. The performance was EXCELLENT and the immersive elements added a fun twist to enjoying live theater.

I'd describe this experience as theatre meets escape room with wonderful production values. The performers were excellent, the puzzles were fun, and drinks were tasty and strong. We had a great time!

Amazingly fun and that is just the immersive experience before the play! The performance, sets, music - the whole atmosphere - was fantastic as well. Definitely an experience worth every penny. I would go again!

Incredible cast. Great venue. Immersive elements were on point. Bravo!!

The performances where great. The set directions and lighting was well done.

Awesome experience!!!

Talent was great!

Great show highly recommend

so GOOD!!!!
Getting there
The Shakespeare Center LA
1238 W 1st St., 90026
Select date and session
General Admission for $49.00 per person
Premium Admission for $64.00 per person