⭐ Monet À Beira d'Água is an immersive show, accompanied by an original soundtrack, which takes you on a sensory journey through the French artist's landscapes, which were painted on the banks of rivers, seas, and lakes.

🚨 Last chance to visit Monet À Beira d'Água before it closes on March 26. Buy your tickets now! 🚨

🕯️ Don't miss our special sessions combining the magic of the Candlelight concerts with the journey into Monet's imagination in Candlelight: Monet À Beira d'Água (March 8 and 23 only)🕯️

Tickets for Monet À Beira d'Água, Sao Paulo
🎫 General Admission
🎫 Advanced General Admission (available for purchase until 24 hours before the event)
🎫 Reduced Admission (proof required)
🎫 Groups and Families (min. 4 people)
🎫 Monet Anytime Admission - Flex (skip-the-line, anytime access + souvenir + exhibition poster)
🎫 Monet Gift Admission - Flex (skip-the-line, anytime access + souvenir + exhibition poster + exclusive planner)
*Flex tickets grant access at any time, except on Tuesdays when you can enter from 4:15 p.m.
Half price tickets: Students, Seniors (60+), People with Special Educational Needs (SEN) and their care providers, Low-income Youth and Teachers from the state public and municipal schools. Free admission for children up to 5 years old accompanied by a paying adult.

Highlights
👨‍🎨 A journey into Monet's imagery in an immersive 4000m² museum by the water!
🎨 Projections of his paintings (285 licensed works) in 2D and 3D digital animation sequences
💦 A sensory immersion in nature with the landscapes painted by the artist on the banks of rivers, seas and lakes
🖼️ An exhibition that uses light, art, sound, color and digital projections to give the feeling of being inside the painter's works

General Info
📅 Date: Tuesday to Sunday
🕒 Time: several options available (select during purchase)
⏳ Duration: 65 minutes (approximately)
📍 Location: Ilha Musical do Parque Villa Lobos
👤 Age requirement: all ages welcome
♿ Accessibility: this event is wheelchair accessible
👉 See full details about reduced tickets here
❓ Please consult the FAQs of this experience here
✔️ Safety measures will be in place throughout the experience
🌍 This experience takes place in Portuguese

Narratives/Acts
Uma Viagem de trem (A Train Journey)
Campos e Moinhos (Fields and Mills)
O Mar e a Luz (The Sea and the Light)
Horizonte Nevado (Snowy Horizon)
Um Passeio pelo Lago (A Stroll by the Lake)
Arquitetura do Tempo (Architecture of Time)
Paisagens en Vert (Landscapes in Vert)
Flores de Tinta (Painted Flowers)

Description
Immerse yourself in Claude Monet's universe of color and light at this multimedia exhibition with projections of 285 of his works alongside an original soundtrack. A unique exhibition that will take you on a sensory journey through the landscapes painted by the French artist on the banks of rivers, seas, and lakes. Projected from the walls to the floor, the paintings present sequences of 2D and 3D digital animations, forming eight audiovisual narratives. The curatorial approach offers visitors the opportunity to discover his work from the water. Come and experience the unique sensation of being at the waterfront and get your ticket now for a full immersion in Monet's paintings! Buy your tickets now for Monet À Beira d'Água, in São Paulo!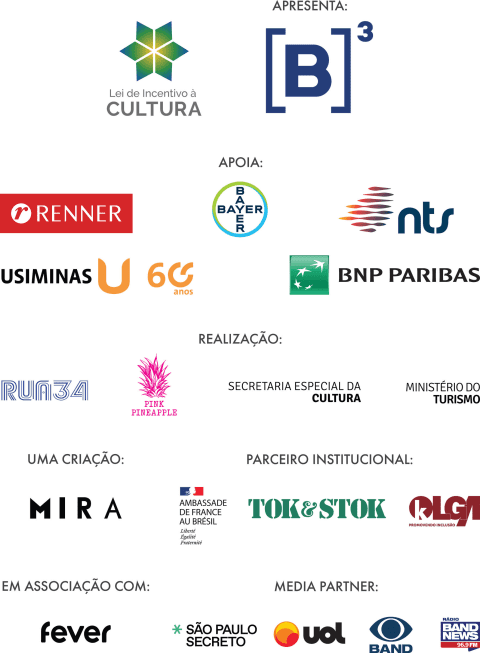 User reviews
Muito legal, a sala é espaçosa as projeções bonitas, a música e a narração perfeitas. Queria que durasse mais.

Foi espetacular. Uma experiência linda. Sem palavras. Lembrei -me de livros e filmes franceses, de cenários exuberantes. Monet é vida, é luz, é cor.

Foi maravilhosa a experiência! Um banho de beleza!

Muito linda e inclusiva! Tocar sua obra favorita em alto relevo é uma experiência pra vida

Exposição bacana.. acho que faltou um pouco mais da história do pintor. Tem um bistrô bem bacana no final

Poderiam abrir o serviço de café meia hora antes da primeira seção.

exposição maravilhosa! vontade de ficar vendo as obras o dia inteiro!

Fantástico! Parabenizo também a equipe do staff. Torço para que vocês também possam realizar um tour de apresentação só para eles, recepção, segurança, limpeza... todos merecem.

Adorei a exposição! Telas muito criativas... Amei o globo e os sons inseridos ! Parecia que eu estava no ambiente onde Monet pintava seus quadros...

Senti falta de saber mais sobre a vida pessoal e o processo criativo do artista. Mas a exposição vale muito a pena!

A exposição em si foi legal. A lojinha tá mal sinalizada, precisa deixar claro que tem uma boutique no fundo com bastante coisa.

Mais informações sobre o pintor.

Amei a exposição! Me senti como se eu estivesse fazendo parte de cada história contada e passeando de verdade pelas pinturas! Foi uma experiência excepcional!

Tudo perfeito, experiência maravilhosa, um passeio pelas obras de Monet , ficaria o dia inteiro contemplando tanta sensibilidade desse artista .

Muito interessante , mas não extraordinário!
Get notified when this or something similar is available