⭐ The Queen's Ball: A Bridgerton Experience is an immersive Regency-era ball inspired by the Shondaland hit series on Netflix. Blurring the boundaries between fiction and reality, this elegant experience will take you back in time to 1813 London!
🚨 Get your tickets with a special 2x1 discount before the Ball ends on September 25 🚨
Tickets for The Queen's Ball: A Bridgerton Experience in Atlanta
🎫 General Admission - includes entry to the immersive Regency-era ball with interactive activities, acrobatic performances, set recreations, and much more.
🎫 General Admission 2x1 discount
🎫 VIP Admission - includes:
Early entry to the immersive Regency-era ball with interactive activities, acrobatic performances, set recreations, and much more
A welcome glass of champagne
20% discount on selected merchandise (some exclusions apply)
Access to the exclusive VIP Area
🎫 VIP Admission 2x1 discount
👨‍👩‍👧‍👦 Group Bundle available: get 6+ tickets at a reduced price
👉 For personalized packages and private sessions for full buyouts, please visit our website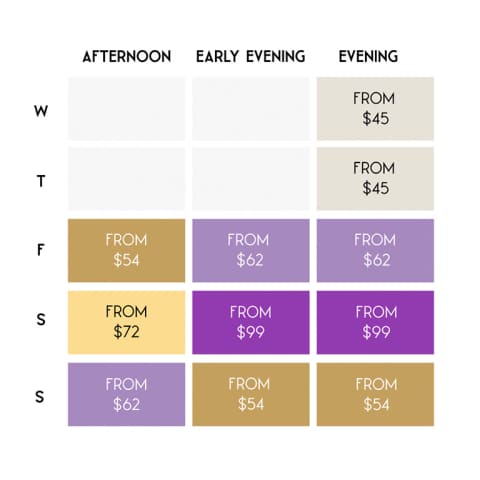 Highlights
✨ Be transported to England's Regency era with stunning decor and period costumes
🎭 Meet and interact with talented actors posing as members of the Ton
🎻 Be captivated by acrobatic performances, a dance show, and a live quartet playing music inspired by the iconic Bridgerton soundtrack
📸 Multiple photo opportunities including a set recreation of the Modiste to see costumes from the show, and an underground Artist Studio for your own Regency-style portrait
🍸 Indulge yourself with a selection of cocktails created exclusively for the experience
💎 The Queen selects one diamond each evening: will it be you? Become the star of the show!

General Info
📅 Date: until September 25, 2022
🕒 Time:
- Wednesdays–Thursdays: 7:00 p.m.
- Fridays: 4:00 p.m., 6:30 p.m. & 9:00 p.m.
- Saturdays–Sundays: 2:30 p.m., 5:30 p.m. & 8:30 p.m.
⏳ Duration: 1 hour and 30 minutes
📍 Location: Building 1, Pullman Yards, 225 Rogers St., Atlanta, GA 30317
👤 Age requirement: 16+ with valid ID; guests under 18 must be accompanied by an adult (18 or older). Must be 21+ with valid ID to consume alcohol. Fever staff may ask any patron for proof of identification to validate their age
♿ Accessibility: the venue is wheelchair accessible
👗 Dress code: dressing up is highly encouraged but not required. Cocktail, semi-formal, formal, or Regency-inspired... you'll have the same great experience no matter what!
❓ Please consult the FAQs of this experience here
✔️ Safety measures will be in place throughout the experience
❗ Please note that weapons of any kind are prohibited at the experience. Security checks at the entry may include use of a "wand" metal detector

Description
Your presence is requested at the most exclusive ball of the season! With this Bridgerton ball, now is your chance to secure your invitation to an immersive experience transporting you straight to the Regency era. Prepare to mingle with other members of the Ton as you sip on cocktails and partake in an evening of music and dance. Rumour has it that Her Majesty Queen Charlotte is looking for the diamond of the season, but will you be the one to win her favour? Get your tickets for The Queen's Ball: A Bridgerton Experience in Atlanta to find out!
User reviews
Vip tickets were completely worth it , we went at an amazing time ! The staff was so fun and polite and they all stayed in character at all time ! I didn't have to wait long for photos or anything! I enjoyed my time so much ! Dancing on the ballroom floor was so fun ! I can't wait to go again in Sept!

Franklin and the entire staff were AMAZING. They recognized us as VIP guests and treated us like royalty. My entire entourage of ladies cannot stop raving about the experience. Thanks for being AWESOME!

The evening felt magical. absolutely amazing. I highly recommend!!! The experience is even better if you dress to the times!!!

So much fun! My daughter danced with the Prince for a solo dance and meant the world to her! Made her feel so special!!

Sucha fun and magical experience! We flew to Atlanta for this event! Such a great way to spend my birthday partying regency style! But the decor, dancing, gift shop, and champagne was awesome! I just wish it lasted longer!!

I thoroughly enjoyed it so much. It was truly royal and an awesome anniversary present with our husband and I

This was by far the most Wonderful event! Everything was beautiful, especially the Queen. Even though I didn't get Diamond of the evening as I came as Lady Danbury (lol). The Diamond was Outstanding! I'll definitely be attending again.

The best immersive experience I've ever been too. The live theater and performances alone where well worth it! Can't wait for another event like this!

The Bridgerton ball was by far the best experience ever! This is a forever lifetime memory. I hope there will be more in the future!

Such an AMAZING night! Beautiful scenery, beautiful performances, amazing ambiance! The night felt magical. We need more of these events!

Everything was beautiful! The sets, the actors and dancing, etc. definitely transferred us to that era! We had a wonderful time! I definitely would attend again, however, next time I would purchase the VIP tickets! 😊

The atmosphere was magical! The musicians were fantastic- truly the highlight of the evening

You guys helped with the proposal process so much. And executed it with precision. I thank everyone involved.

It was truly amazing I loved every moment and believe everyone should experience this moment. Truly magnificent.

I am truly blown away. Not only did this event live up to my expectations, it exceeded them! The performers did an amazing job staying in character and still directing people in a way the understood. The decor and photo opportunities we absolutely amazing. I am thoroughly impressed and will be recommending the event to all of my friends and family.
Get notified when this or something similar is available