⭐ The Queen's Ball: A Bridgerton Experience is an immersive Regency-era ball with period costumes and stunning decor. Enjoy music inspired by the Bridgerton soundtrack and be captivated by the performances around you in this interactive experience!
🚨 Enjoy 50% OFF tickets to The Queen's Ball using the code BRIDGERTON50 - Offer ends Sunday 18th September 2022 🚨
Availability
🟡 September - Tickets selling fast!
Tickets for The Queen's Ball: A Bridgerton Experience in San Francisco
🎫 General Admission - includes entry to the ball
🎫 VIP Admission - includes early entry to the ball, a welcome glass of champagne, 20% discount on selected merchandise (some exclusions apply) and access to the exclusive VIP Area
Choose from the following ticket options:
Ticket for 1
Group Bundle: 6+ tickets at a reduced price
👉 For personalized packages and private sessions for full buyouts, please visit our website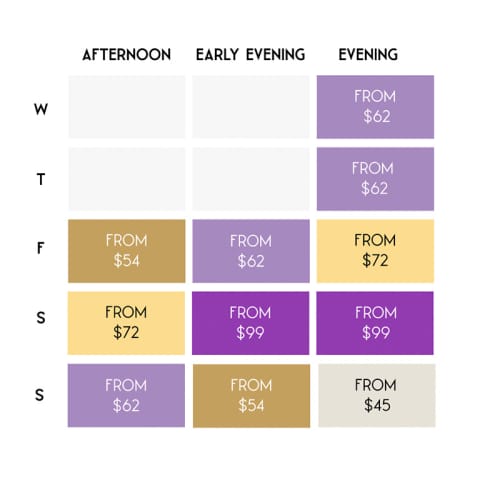 Highlights
✨ Be transported to England's Regency era with stunning decor and period costumes
🎻 Be captivated by a dance show and enjoy the music inspired by the iconic Bridgerton soundtrack played by a string quartet
🎭 Enjoy romantic love stories, acrobatic performances, and interactive experiences based on key moments of the show
🍸 Indulge yourself with a selection of drinks
📸 Take pictures with various photo ops to prove you attended the most exclusive ball of the season

General Info
📅 Date: until September 18, 2022
🕒 Time:
- Wednesdays–Thursdays: 7:00 p.m.
- Fridays: 4:00 p.m., 6:30 p.m. & 9:00 p.m.
- Saturdays–Sundays: 2:30 p.m., 5:30 p.m. & 8:30 p.m.
⏳ Duration: 1 hour 30 minutes. Please arrive 30 minutes before your scheduled entry time
📍 Location: SVN West, a Non Plus Ultra Venue; 10 Van Ness Ave, San Francisco, CA 94103, United States
👤 Age requirement: 16+. Those under 18 must be accompanied by an adult (18 or older) and you must be 21+ with valid ID to consume alcohol
♿ Accessibility: the venue is accessible to people with reduced mobility. We are happy to help with more information and special accommodations! Since every situation is unique, please contact us in advance
✔️ Safety measures will be in place throughout the experience
❓ Please consult the FAQs of this experience here

Description
Your presence is requested at the most exclusive ball of the season! Now is your chance to secure your invitation to an immersive experience transporting you straight to the Regency era. Prepare to mingle with other members of the Ton as you sip on cocktails and partake in an evening of music and dance. Rumour has it that Her Majesty Queen Charlotte is looking for the diamond of the season, but will you be the one to win her favour? Get your tickets for The Queen's Ball: A Bridgerton Experience in San Francisco to find out!
User reviews
What a lovely event. The staff was amazing. The settings were amazing. The actors were lovely (cast members). If you can, spring for the VIP tickets. It is worth it to get access to the area for photos ahead of the crowd. It wasn't too crowded except for the end dancing area. It went by too fast!

Amazing time. I would love to go again. I was pick as Diamond and I as so honored. Everyone was fun and lived up to the name very well!!!!

i went solo & had so much fun! everyone was so nice all the way down to the security that was there. VIP was worth it to me because u get to take all the pics u want 🤗

It was truly an amazing and magical experience for me and my daughter! The stuff were all nice too! It was an honor to be at the Queen's ball your, Majesty!

What a magical event! Thank you for making this available to us! I LOVED the duke and his diamond! <3 They were absolutely brilliant! As a person of color, it was a beautiful thing to see! Loved their interaction with us. We were completely engaged!

This was my second time attending and I had a marvelous time again. I was really glad to see that you had made some changes since the first time I was there including letting guests sit on the Queen's red chair for photos after the ball had begun. Also I noticed differences in the dance which was lovely for someone who came a second time. Thank you to everyone who organized this event and all the wonderful performers. Bravo! PS: it made our evening that the Queen chose a gentleman in lilac as her diamond. 💎

It was a real ball and a blast. So much fun to go with my girlfriends, get dressed up, get a couple drinks, and dance.

It was a beautiful event!! My niece was chosen Diamond of the Ball. It would've been nice if she received some sort of remembrance. That was quite an honor to be chosen out of probably 200 ladies! We really enjoyed it all!!

Excellent methods of engaging the audience, I felt like part of the show!

My husband and I had a lovely time at the Bridgerton Experience! The performers are amazingly talented and really engaged guests. The decor was beautiful and staff was helping, kind and inviting. We would absolutely attend again!

This was a great event for my friends and I to dress up and enjoy a night out together. What I appreciate most was the staff/cast members. They were so kind and helpful to us, including helping my friend see the dancing and giving us a ride instead of using the stairs to get back from the ballroom. (My friend has cerebral palsy so she cannot take stairs easily). Thanks so much!

Most amazing experience of my life! Loved every moment of it. The attention to detail was insane!!

This was truly an immersive experience! I loved the music, venue, the performers, the opportunity to dance, and the opportunity to interact with other Bridgerton fans. I didn't want to leave when it was over. Perhaps they could create another Bridgerton experience in the future, based off of season 2.

I loved the experience! The venue was easy to find with close parking. The photo ops were awesome! The cocktails were yummy, and the performers and entertainment were amazing!

Great for pictures and had a nice performance
Getting there
SVN West, a Non Plus Ultra Venue
10 Van Ness Ave, San Francisco, CA, 94103
Get notified when this or something similar is available