⭐️ The greatest show on earth has arrived in Madrid with a musical and gastronomic immersive experience that mixes the best of Las Vegas and Broadway with the greatest hits in the history of music. After the show, enjoy the most spectacular club party inside the venue.
🎁 Make Father's Day special by giving your one and only dad the gift of WAH on March 19 and 20 🎁
🍭 Buy tickets for WAH and bring your kids along for free! Important: you must purchase a free ticket for each child 🍭
Promotion valid for stall ticket and children under 12 years old, including Saturday and Sunday matinees. Not valid for schools.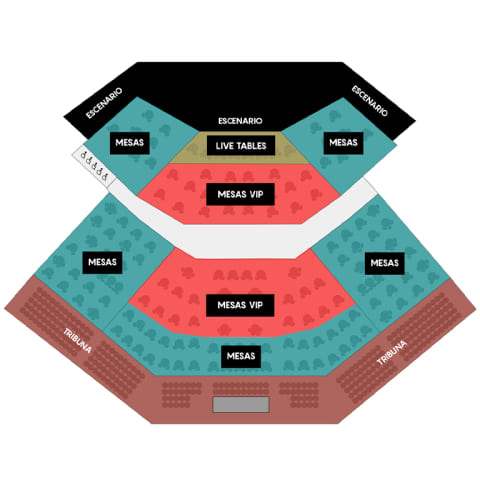 Tickets for WAH Madrid
🎫 Private Box for 4 people* - From €400/person
Skip-the-line entry
A staff member to assist you throughout the whole experience
VIP table for the first act
Tasting menu included per person - See the menu here
Open bar during the 3 acts


*From April 13, during Saturday afternoon sessions
🎫 Live Table - From €118/person
Enjoy a unique experience where you can almost touch the artists
12 unique seats to experience WAH's live performance in an unforgettable way
Waiter and bottle service a la carte
Table escort with the WAH hostess team
Assigned table in the Food Hall and Club VIP areas so you can enjoy the party before and after the show


🎫 VIP table - From €79/person
Waiter and a la carte bottle service
Exclusive seating in private area
Table escort with the WAH hostess team
Assigned table in the Food Hall and Club VIP areas so you can enjoy the party before and after the show


🎫 Table - From €64/person
Waiter and a la carte bottle service
Exclusive seat
Excellent panoramic view of the stage
Access to the Food Hall before and after the show


🎫 Premium Seat - From €34
Comfortable reserved seat in the grandstand
Excellent panoramic view of the stage
Access to the Food Hall before and after the show


👉 You will be able to choose your preferred location on the map when you purchase your tickets. If you select stalls, you will be automatically assigned the best available location
🎁 Give tickets to the WAH Madrid experience to your loved ones with our Gift Card! Find out more here 🎁
Highlights
🎸 A musical show with incredible staging, which moves you through all genres and eras of music
✨ An experience full of surprises where nothing is what it seems
🍔 A gastronomic space with flavors from around the world to be enjoyed before and after the show (food not included in the ticket)
General Information
📅 Dates: from Monday to Sunday
🕒 Time:
Thursday to Saturday - Dinner and Show session at 7:30 p.m. Aftershow, 11:15 p.m.–1 a.m.
Saturday morning session and Sundays - Lunch and Show at 1 p.m. Aftershow, 5:15 p.m.–6:15 p.m.
👤 Age requirement: 18+ for the 7:30 p.m. sessions. If you purchase children's tickets, they must be accompanied by at least one adult ticket
📍 Location: a secret place at IFEMA, Madrid (Pavilion 2)
♿ Accessibility: this venue is wheelchair accessible
🔗 Please consult the FAQs of this experience here
❓ Food and drink are not included in the ticket
Description
In a dystopian world where music is forbidden, WAH emerges: the last refuge where you can experience it again. WAH combines the best of musicals, a great story and spectacular staging and costumes, with a great immersive musical experience through the biggest hits in music history. From Beethoven to Michael Jackson, all the music is brought together in the same space and performed by talented singers and musicians. To further add to this experience, explore 12 food stations and savor delicious cuisine from around the world. Be part of the show and get your tickets for WAH, the musical and gastronomic show at IFEMA Madrid! Order an Uber for a stress-free ride to the biggest gastronomic and musical show at IFEMA.
User reviews
Impresionante el talentazo de cada uno de los artistas y lo bien dirigido que está. El trato maravilloso, me emocioné. Inolvidable, gracias, gracias, gracias... Ana

El elenco de actores son auténticos músicos que te hacen vibrar con cualquiera de los temas interpretados. Gran puesta en escena. Concepto distinto y original con las gestiones de gastronomía. Volveré con mi familia

Una experiencia brutal¡¡ Suelo ir a musicales y jamás, repito, jamás vi nada igual. Después de pasearte y tomar diferentes aperitivos pasamos a ver el espectáculo, desde la tematica hasta el ultimo bailarín, todo es una pasada, no puedes dejar de aplaudir y levantarte del asiento, es una experiencia que recomiendo a todo el mundo, yo no voy a pasar fotos a mis amigos para obligarlos a ir y que vivan como yo la experiencia.

Brutal!!! No sólo es el espectáculo, es sin duda la experiencia. Además, hay muchísima gente trabajando y la atención es sobresaliente 100% recomendable

Es impresionante el espectáculo de musica y aque toca todos los estilos. Grandes voces, músicos ... Y que decir de la zona gastronómica puedes disfrutar de muchas experiencias. Me he quedado con ganas de mas música!!!

Es un espectáculo con una puesta en escena fantástica. Los decorados y el ambiente recreado es espectacular. Los músicos y bailarines interactúan con el público al final y eso me ha parecido muy chulo. Es un plan estupendo para ir en familia, amigos, pareja...

Wah es más de lo que imaginamos, superó nuestras expectativas. Cada detalle está cuidado y tomado en cuenta, la buena vibra de las personas que trabajan en el sitio es contagiosa. Realmente disfrutas desde que entras hasta que te vas. 100% recomendado.

Es espectáculo fabuloso a todos los niveles: puesta en escena, variedad de estilos musicales fusionados bajo un ambiente muy agradable y envolvente. La pena es que se hace muy breve. Totalmente recomendable recomendable 🙂

Música en estado puro!. Un espectáculo increíble. Calidad insuperable de todos y cada uno de los miembros del equipo. Un maravilla difícil de olvidar. Disfrutamos desde el minuto uno hasta el final de fiesta!. Una gran idea, una performance espectacular!

IM-PRE-SIONANTE! No habiamos vivido algo igual hasta la fecha. Sin duda alguna la mejor elección para regalar.

Es el mejor show que he visto en la última década en Madrid. SUUUPER RECOMENDABLE , y para mi fundamental coger una mesa VIP, merece la pena.

Segunda vez q voy, la primera con mi familia a la sesión familiar y la Segunda a la de noche para cambiar el ambiente….espectaculares ambas. Desde q entras la música te va teletransportando. Me encanta

una pasada!!! enhorabuena a los creadores por qué es una maravilla,la calidad y profesionalidad de los músicos,cantantes... la amabilidad del personal,la decoración,alternativas veganas....esq es todo de 10,pienso volver !!

Un espectáculo como ningún otro, los artistas y todo el montaje simplemente excepcional. La experiencia gastronómica fantástica, definitivamente un 15/10

Todo increíble; las voces, instrumentos, bailarines y la puesta en escena brutal con ese apoyo visual tan dinámico. Para volver.
Select date and session
Mar 2023
Apr 2023
May 2023
Butaca Premium Silver Adulto por 35€/persona
Persona Movilidad Reducida por 35€/persona
Butaca Premium Gold Adulto por 39€/persona
Mesa Stage lateral para 2 personas por 44€/persona
Mesa Tribuna media para 2 personas por 44€/persona
Mesa Stage para 2 personas por 54€/persona
Mesa Tribuna para 2 personas por 59€/persona
Mesa Tribuna central para 2 personas por 74€/persona
Mesa Stage lateral para 4 personas por 44€/persona
Mesa Tribuna media para 4 personas por 44€/persona
Mesa Tribuna para 3 personas por 59€/persona
Mesa VIP Tribuna para 2 personas por 99€/persona
Mesa VIP Stage para 2 personas por 109€/persona
Mesa Tribuna central para 3 personas por 74€/persona
Mesa Tribuna para 4 personas por 59€/persona
Live Table para 2 personas por 129€/persona
Mesa Tribuna central para 4 personas por 74€/persona
Mesa VIP Tribuna para 4 personas por 99€/persona
Mesa VIP Stage para 4 personas por 109€/persona
Mesa Tribuna central para 6 personas por 74€/persona
Persona Movilidad Reducida Acompañante por 35€/persona
Only a few tickets left