⭐ With her incredible musical, OléOlá, Cristina Hoyos masterfully explores the history of flamenco like never before. A unique show at Madrid's iconic Teatro Eslava that's full of flavours, dancing, singing… and a lot of talent!
🎁 Give OléOlá as a gift and enjoy Flamenco like never before! 🎁
Tickets
🎫 Entrance + Drink
🎫 Entrance + Tapas dinner menu + Drink
🎫 Entrance + Vengan dinner menu + Drink
❓To be seated together, you must buy tickets for all guests in the same transaction
Highlights
💃🏼 A musical with incredible singing, dancing and artistry
🍇 A show-dinner with the best of Andalusian, Arab, Gypsy and Castilian flavours
🌟 The iconic setting of the Teatro Eslava, right in the city centre
🎁 Exclusive Ticket Sale
General Info
📅 Date: Thursdays, Fridays and Saturdays
🕒 Opening hours: 8 p.m. - 11 p.m. approx.
- doors open at 8 p.m.
- access to the theater from 8 p.m. to 8:30 p.m.
- dinner is served at 8:30 p.m. approx.
⏳ Duration of the show-dinner: approx. 3 hours.
📍 Location: the amazing Teatro Eslava
👤 Age requirement: 18+. Children under the age of 10 must be accompanied by a parent or guardian
♿️ Accessibility: this event is accessible for people with reduced mobility on Floor 0
👉 Show days, from 5 p.m., ticket sale at the box office
❓ Please consult the FAQs of this experience here
Cast and credits
Director and choreographer: Cristina Hoyos
Stage Director: Jose Carlos Plaza
Author of music: José Luis de la Paz
More than 50 people participate in the creation of the show, including the 15 dancers, which makes for an exciting performance
Dining Experience

Description
Cristina Hoyos brings you OléOlá, a totally unique, Flamenco-flavored Musical. During a 3-hour show, the best of our culture and food come together with passion, art, and flamenco heels in the iconic Teatro Eslava. Cristina Hoyos (the leading name in Flamenco) and Jose Carlos Plaza (a legend in the industry, with several national theater awards under his belt) will treat you to an incredible show, with a line-up that will trigger all five of your senses, with palmas, talent and a lot of passion. All this accompanied by an excellent dinner with locally-sourced ingredients and a journey through the most popular Spanish tapas. Allow yourself to be carried away by the talented cast and crew for an unforgettable experience!

Reviews
💬 Luis Antonio N. ⭐⭐⭐⭐⭐: "A great show! It was very well put together, with a wonderful team of professionals, both in the theater and on stage. Definitely worth seeing. I will probably go again. A big round of applause to the whole team."
💬 Francisco M. ⭐⭐⭐⭐⭐: "Whether you like flamenco or not, you should go and see this show. With color, costumes, special effects, love, life, vital energy, poetry, youth and García Lorca…what more could you want?"
💬 Juan Enrique M. ⭐⭐⭐⭐⭐: "We loved it and our German friends particularly enjoyed it. A great combination of excellent artists, dance, singing and guitar with wonderful special effects on the backdrop. The staff was also very attentive and helpful!"
💬 Juan G. ⭐⭐⭐⭐⭐: "Tradition and modernity come together in this excellent show in Madrid. It was made even better by the intimate atmosphere, which was accompanied by a delicious dinner. An unmissable experience!"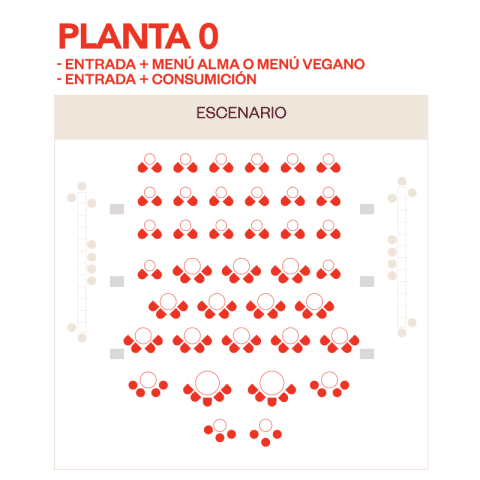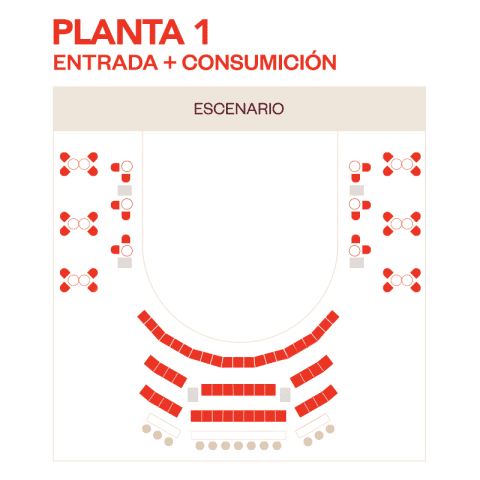 ¿Cómo llegar?
Teatro Eslava
Calle del Arenal, 11, 28013
Selecciona fecha y sesión
dic 2022
ene 2023
feb 2023
Entrance + Drink for 55,00€
Entrance + Tapas dinner menu + Drink for 110,00€
Entrance + Vengan dinner menu + Drink for 110,00€